5D Mobile Mini Movie Cinema With Snow, Bubble, Rain, Wind Special Effect
Provided by Guangzhou Shuqee Didital Technology Co., Ltd ( hppt://www.shuqee.com )
Product Description
Today , there are more and more way to relax and recreation , but , it's a miracle that you can watch a 5D movie in your home ,or , there are a motion cinema in your room , you not need go for a 7D movie outside , you can enjoy your motion cinema with your friend and your family at home.This kindly of cinema equip our own technology chair ( 3 dof motion chair ) , this chair is genuine leather + fiberglass , has many special effects , movement up and down , right to left , front to back , vibration , leg sweep , spray air and water , etc.
There are still many effects in the room , snow , rain , smoke , etc.
We can free to design schema for you , just need the room size.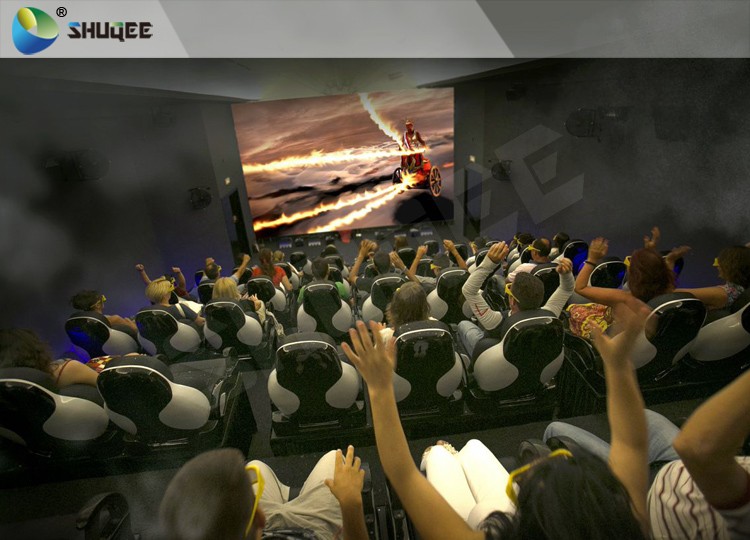 Specification
professional 5D Equipment

Style

Innvention cinema equipment 6-12seats

Capacity

6-12people

Seat weight

180KG

Seat size

1900 x 850 x 1400 ( L x D x H mm)

Movement from left to right

0-24 Degree

Vibration frequency

12HZ

Drive

Pneumatic / Hydraulic / Electronics

Customized is available
Material Datas
Product Material For Chair:
Material: Motion seat constructed using fiberglass body, integrated molding, solid & stable, and easy maintenance;
Seats Type

: VIP single chair, Super-experienced double chair, High-cost 3people/set chair, Economic 4people/set chair;

Private Customized

: Customized interior scenes, Customize the appearance of the theme and seat design;

Opening Control System

:

Opening theater control system, can be directly run theater docking and control, to remotely

control a predetermined film

,

self-ticketin

g

, a key screenings, remote control switches, etc.

Saving labor and management cost unified ticketing system.
Charactor & Feature: Shuqee's six systems of motion cinema
Cinema Control System is the core parts of the whole technology 4D, and the he management staff use friendly, intuitive interface, is used to implement the theater all equipment within the main control and individual control;

Digital Playing System provides a wide applicability, high quality 3D solution, supports both 2 D and 3D movie playing; Adopt unique color filtering technology, with simple operation, powerful features, equipped with reusable 3D glasses,conducive to environmental protection;

Screen System as the most intuitive visual objects can restore the real film scene, including main types: Metal Screen, high-gain metal screen, Arc Screen, 360° Degree Screen;

Digital Audio SystemA new generation of 3D audio formats the sound from the sides of the audience, and even head to traditional theater audio into immersive atmosphere; and support audio delay to correct the sound reached to the precise synchronization;

Digital Special Effect System: Lightning , Rain , Snow, Bubble, Windy, Smoke, Flame, Laser and Smell Simulation;

Motion Chair System: Water spray to face, spray air to face, movement, vibration, leg tickle, push back.
Main Products: 4D 5D 6D 7D Motion cinema
Services for: Cinema , Scenic Sport , Theme Park , Playground Center , Science Museums , Exhibition Hall , DIY Home Theater , Business Center.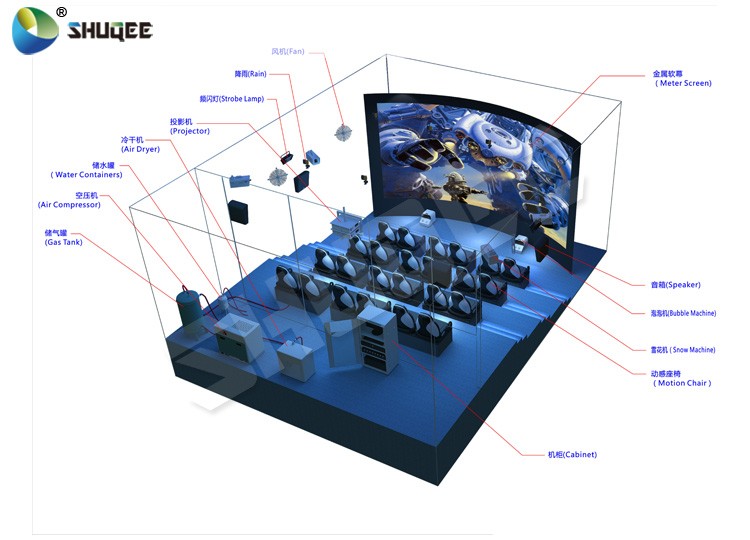 Different Dynamic for chair:
There are three kinds of dynamic for you to choose :
1. Electric
2. Pneumatic
3. Hydraulic
Special function for chair:
1.Water spray to face:While raining in the movie ,the equipment on the chair will spray a few water to face.
2.Spray air to face:Compressed air directly to the audience`s face,simulate the explosion impacrt , the bullet flying ect . The jet effect is sprayed by aie nozzle in chair, spray to face and neck.
3.Movement:Up and down,left and right, forward and backward,simulate moviement of lifting, rolling,and pitching.
4.Vibration: Built-in seat cushion inside,the function can push up and down, realize the vibration of 12Hz,make the audience feel the up and down "vibration" feeling.
5.Leg tickle:Each small elastic air hose under the seat suspension will pat the audience calf place;it can simulate the animals to drill leg of the audience,
6.Push back:The back of the seat with the new equipment, the effect can push forward,realize 5Hz the vibration ferquency,make the audience feel on the back of the suddenly "vibration",have intense "Push Back" and " Electric shock" feeling.
Movement Specification
1.Movement from left to right: 0-19°c degreen.
2.Movement up and down: 0-200mm.
3.Pitching moviement front and backward: 0-24°degreen.
Related Products
Other Series of Cinema (Click Picture for More Detaila)
Certifications
Sucessful Cases and Certuification
Company Information
About SHUQEE
Guangzhou Shuqee Digital Tech. Co., Ltd adopts advanced video imaging technology, citing the international forefront of innovative design concepts, gathering many senior professional technicians. We are fully implementing the ISO9001: 2008 quality Management Implementation of Standards. A technological, cultural and creative company which realizing a set of 4DM/XD Theater system development, equipment production, planning and construction, operation and maintenance to form a whole industry chain.
Customers with Us
Why Choose Us
Certificate: CE, ISO9001:2008, GMC, Patent Certificates;

The top team to research and develop the intelligent 4DM theater system – All electric system of green environmental protection;

Perfectly transform 3D cinema into 4D cinema - Environmental effects deep accurate synchronization;

Dozens of related technology patents – Focused more professional;

Customized design – Prominent theme;

Standard cinema construction process – High-grade effect assurance;

Respond within one working days – Instant after- sale service.
Pictures of Process
Packaging & Shipping
Safety pakcaging of 4d motion chair: Bubble Pack +stretch films +carton+ wood frame.
FAQ
Contact Us
Please feel free to contact us if you have any demands or questions on our 4d motion chair or services.